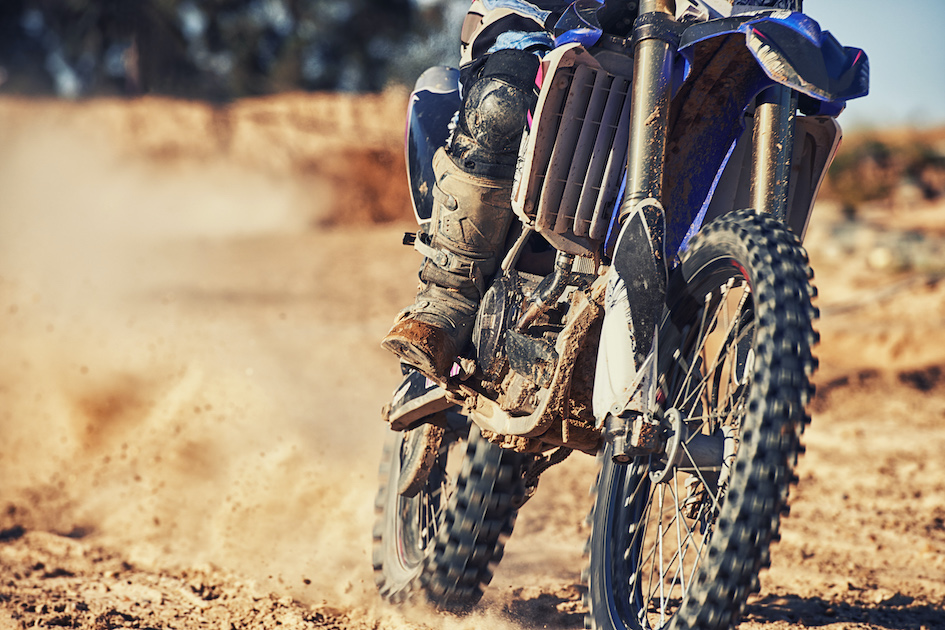 When looking to get started with your off-road motorcycle, there's a whole host of parts and accessories to consider. You'll need to be familiar with everything, from brakes to handguards, there's lots that goes into off-roading.
We understand that it can be a difficult getting started. At Venhill, we've been working with motorcyclists, both new and experienced, for years. It's our job to ensure that your bike's cabling, components and lines are all responsive and functional (the last thing you need is one of your cables letting you down at a crucial moment!)
Our team has put together this guide to run you through all the basics of off-road motorcycle parts and accessories, making sure that you've got everything sorted before you hop on your bike.
Important Parts for Off-Road Motorcycles
While we could spend hours talking about all the moving parts inside a motorcycle, it's probably more important for you to understand the specifics about which parts and accessories are particularly important for off-roading.
Skid Plate
Your skid plate is an incredibly useful piece of off-road equipment. Protecting the underside of your bike, the skid plate acts like armour, deflecting any errant stones, stumps and other obstacles that are likely to cause damage to your bike's engine.
You'll want to find a skid plate with as much coverage as possible. Any material will do; the most common being aluminium, plastic or carbon fibre – they all work just fine.
Handguards & Grips
When riding off-road, you'll want to make sure that you've got both a comfortable, responsive grip and protective handguards. Remember that you'll be making rapid adjustments, so it's important that your bike responds quickly to your inputs.
Not only this, but your hands are vulnerable out at the front of the bike. If you've ever had your knuckles whipped by a branch, you'll understand the need for handguards. They're designed to protect both your hands and your controls, both things that you really want to remain functional as you ride!
Steering Stabiliser
A steering stabiliser is, essentially, suspension for your handlebars. It's designed to dampen any jerking or sudden twisting of the handlebars while you're riding. A great piece of equipment for when you're riding a relatively unknown trail and aren't sure of the terrain.
Mudguards
Your mudguards, or mud flaps, are designed to minimise the amount of dirt that your tyres launch into the air. This can help to protect other riders and the more sensitive parts of your bike (like your body!)
Brakes
While it may seem obvious, the brakes on your off-road bike need to be exceptional. When riding off-road, you'll be needing to make sudden, often high-speed, adjustments. You'll want your brakes to be reliable, as there's nothing worse than being unable to make a turn because your brakes have let you down.
You'll want to keep an eye on your brake pads. If you're riding a lot, you'll wear them down faster than you might think; as a beginner you might find yourself hitting the brakes a little harder than might be necessary! In addition to this, one essential (and easily forgotten) part of your brakes is your brake hoses. In order for your brakes to be responsive, you need to equip them with high-quality brake lines – this is an area where lots of new riders will cut corners. Remember that investing now will save you repair costs down the line.
Now, your brake rotors are tough pieces of kit, so are unlikely to need protecting, but if you're planning on riding in rocky terrain, we highly recommend grabbing yourself a disc guard to protect from flying stones.
Fuel Tank
When riding off-road you're going to rinse through your fuel. It's (unfortunately) inevitable. Installing a larger fuel tank is practically a necessity – we highly recommend it. Some tanks aren't as bulky as you might expect, and will fit nicely into your bike without adding excess bulk.
Tyres
The tyres that you choose will vary depending on the conditions that you plan on riding in. This can impact your handling and acceleration, so it's worth taking the time to choose the right tyres for your riding style. You'll need to consider tread weight, tyre hardness and knob spacing, all which can vary depending on usage.
Clutch Conversion
Many off-road enthusiasts are choosing to convert their cable clutches to hydraulic clutches. Hydraulic clutches are much easier to maintain and offer a more consistent lever pull, so in many cases can be more reliable. Converting to a hydraulic clutch is easy, and requires a boxed clutch kit to swap over.
How to Choose Off-Road Motorcycle Gear
It's important to get the bike right, but it's (perhaps obviously) just as important to protect yourself when you're riding. Choosing the right gear that offers both comfort and protection is key.
Helmets
The most critical piece of kit that you'll own, investing in good headgear is a no-brainer. When looking to buy a helmet, spend plenty of time researching the ideal helmet. Ask yourself:
What kind of riding will I be doing?
Which brands do I trust?
What's the best shape for me?
Will this fit my head?
Our advice: don't skimp. You could go cheap and buy a helmet for peanuts, but when push comes to shove and you've fallen, a cheaper model is unlikely to protect you as much as you'd like. Buy a helmet from a brand that you know. The UK government run the SHARP scheme which is designed to help you find the perfect helmet for you.
Boots
Getting the right boots will save you a whole host of issues in the long run. Ask anyone who's ridden without proper protective boots and they'll tell you to get some. Off-road boots will have support up to the shins that's designed to prevent your ankle from rolling during a crash, and they'll have sturdy soles to protect your feet from any unexpected contact with the ground.
Goggles
Being able to see when riding is quite nice. Grab yourself some quality cushioned goggles. Good goggles will be shatterproof (you really don't want shards in your eyes) and come in all varieties of tints to suit your needs.
Gloves
Protective gloves are a relatively cheap addition to your accessories, so you'll want to grab a quality pair. As with most things, they vary depending on your usage, so shop around to find the perfect pair for your digits.
Armour
While many beginner riders don't invest in armour (it's arguably less important than everything listed so far), it's definitely worth considering as you get more invested in the sport. Elbow and knee pads are highly recommended, as is a chest piece with shoulder and spine protection. Some riders also choose to add a neck brace to their kit, too.
Tools
While you might have some old tools knocking around that do the job, grabbing yourself some specialised tools is always a worthwhile investment. You'll thank us later!
Motorcycle Parts & Accessories with Venhill
Over the last 50 years, our team at Venhill have specialised in the most advanced motorcycle cables, controls, lines and other parts that money can buy. We believe that the connection between rider and machine is important, that's why we created our Part Finder and Line Builder tools to help you find the perfect components for your bike with ease.
Our products are used by both beginner and professional riders worldwide. If you'd like some more advice on finding the ideal products for your motorcycle, be it an MX bike or a road bike, give our experts a shout – we're on hand to help in any way that we can.