Harley Davidson is undoubtedly one of the first names that comes to mind when you talk about motorbikes.
The brand and their bikes have become synonymous with riding and they continue to amass a dedicated and loyal following.
These bikes also have a long tradition of customisation, with every rider putting their unique stamp on their bikes. This creates the soul and passion that surrounds any Harley Davidson bike. The vehicle becomes an embodiment of the loyal riders who take pride in flying the Harley Davidson flag.
With thousands of parts and accessories to choose from, riders can create something that is truly special and unique to them. This takes the bike from being a mode of transport, to something that has personal meaning and value.
So, when it comes to customising a Harley Davidson, what are the best accessories to get?
Harley Davidson Accessories
We delve into a few ideas below, to help you get started. From the iconic Harley Davidson to stylish modern bikes, you can choose accessories that best suit you and what you want from your bike.
Harley Davidson Luggage and Saddlebags
Harley Davidsons are perfect bikes to travel on and offer a comfortable ride for long distance journeys.
For these types of expeditions, ensuring you have enough storage is important. You can't simply load up a roof box with suitcases full of possessions. Instead, you need to pack smart and utilise the very best motorcycle storage options.
Depending on your specific requirements, you'll be able to find a bag that's best suited to your bike. From Harley Davidson's own motorcycle bags to clever storage add-ons, you'll be ready for any adventure.
Finding the perfect seat will make a world of difference to your overall comfort. Particularly on long journeys or if the bike gets used daily, having a seat that is best suited to you will mean you can ride for hours without any discomfort.
Having good seats will also mean you feel in better control of the vehicle.
Seats come in a range of shapes and sizes, and choice often boils down to personal preference.
When it comes to customising your Harley Davidson, the paintwork and bodywork is going to be a defining factor.
From traditional colours to bold choices, it's up to you.
You can even look to add artwork to the bodywork to truly make it a customised and unique bike.
If you prefer measuring your journey in songs, not miles, then ensuring your Harley Davidson is kitted out with a good audio system is worthwhile.
From speakers and helmet headphones, to wireless connectivity and Bluetooth, there are plenty of options to ensure your journey is filled with music.
You can also get devices with built-in GPS, so you never get lost.
Harley Davidson Motorcycle Cables
Motorcycle control cables and braided brake lines have a direct impact on motorcycle performance, so getting s fit for the job is paramount for any Harley Davidson rider.
Here at Venhill, we offer a range of Harley Davidson cable kits, specifically designed for Harley Davidson motorbikes. All our Harley Davidson cable kits are oversized and finished at one end. All you need to do is cut to length and finish as required.
These cable kits are available in black finish or braided stainless steel and are guaranteed to look amazing on any Harley.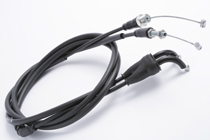 The handlebars are one of the iconic features of a Harley Davidson.
The traditional high bars evoke all the emotions and feels towards these bikes. Nevertheless, you can get a range of handlebars and grips for your bike. Depending on how you use the bike, this may impact what type of handlebars are best suited.
Having a brake pad that is comfortable will help improve overall control.
Foot rests, such as pegs and pads, help provide comfort by giving riders and passengers a place to rest their feet. These come in a range of designs and shapes, so you can select one that best suits your bike and your personal requirements.
The wheels set the tone for the whole bike. From traditional wheels and tyres to modern styles, this will give the bike character as well as functionality.
From the turbine to the tomahawk to the fat boy, there are Harley Davidson wheel styles to suit every rider.
The lights on your bike will impact both visibility and overall aesthetics. You can choose from more traditional Harley Davidson lights or more modern styles.
Lights will vary in output and performance, so this is worth thinking about when looking for lights.
Lighting isn't just about the headlight, this also includes turning signals, rear lights and accent lighting.
Once your bike is kitted out with the very best in motorcycle accessories and parts, you need to make sure you look the part too.
You can get Harley Davidson clothing that is both stylish and functional. This includes things like; riding jackets, helmets, boots, sunglasses, gloves, chaps, t shirts and sweatshirts. Available for men and women, getting some Harley Davidson gear is a must for anyone who owns a Harley.
Learn More About Venhill
Our mission here at Venhill is to help you get more out of your motorcycle. For over 45 years, Venhill has been manufacturing control cables, hydraulic hoses and brake lines for Motorbikes, Quad Bikes, Cars, Karts and many other applications.
We have dedicated products specific for Harley Davidson bikes, so if you are looking to customise your motorcycle, browse our product range or get in touch with out friendly team today.
We also have lots of motorcycle accessories and toolkits, so you can improve riding performance and aesthetics.