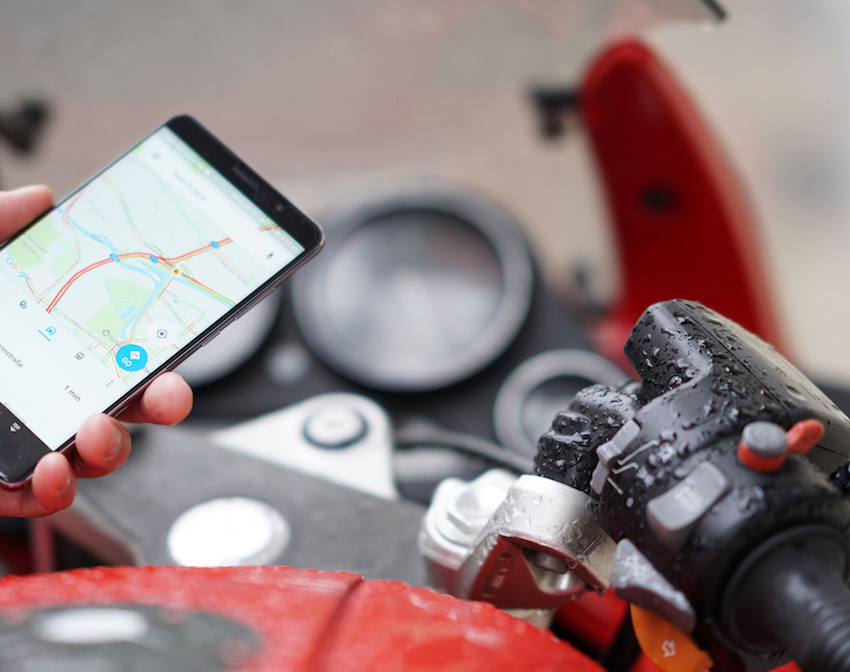 With a whopping 1.85 million different apps available for Apple in addition to the 2.56 million on Android, according to 'Business of Apps' 2020, whatever your needs, hobbies, interests or passions are, it's fair to say, there is most likely an 'app for that'.
From fitness, to education, gaming, arts and crafts, business, sports and so much more, the list of app genres is simply endless. When it comes to the world of motorcyclist enthusiasts, we have certainly not been left out of this app-phenomenon. A whole host of apps are available to add to the thrill of owning and riding your bike.
With so much to choose from, we've hand-picked a few of our favourites for serious riders; from GPS tracking, discovering biking communities, maintenance checks, inspiring adventures and so much more, our list has got you covered.
Rever
With the slogan 'if you rev it, REVER it', this app is designed specifically for motorcyclists, snowmobiles and off-road vehicles.
If you've heard of, or ever used Strava then consider REVER the two-wheeled ride equivalent. It is a GPS app and community and claims to be the largest in the world of its type with over 1 million global downloads. It does well for reviews too -not always easy with so much competition on the app store- and has an impressive average rating of 4.6/5. Among its many features are the options to track distance, duration, elevation and speed. For the more social riders, you can connect with others through virtual communities. You can share your routes and use the community to discover new routes for you to try. For extra motivation you can even compete in challenges.
As is the case with most apps, many features of REVER are free but there is the option to upgrade to premium features with REVER PRO. The upgrade includes weather alerts, offline maps and rides, POI (points of interest such as petrol stations, hotels and restaurants) and much more.
Bike Magazine
Who said you can only enjoy owning a bike when out on a ride? Not us! The official Bike Magazine - Britain's best-selling motorcycle magazine- can be read and enjoyed all from your phone and on the day of its release – no need to head to the shops. If you're yet to discover what this magazine has to offer, think of it as your motorbike inspiration. From the best biking stories, stunning photography, inspirational adventures, motorcycle news, unrivalled reviews and advice and so much more.
If reading the advice and stories from Bike Magazine sees you discover that parts of your bike that need repairing, replacing or perhaps you are simply inspired to do some upgrading to optimise your ride, here at Venhill we're ready to help with the highest quality parts and components for your bike. You can use our catalogue part finder if you know exactly what you are looking for.
MyRide – Motorcycle Routes
A worldwide community of motorcyclists are currently using MyRide to enrich their riding experience. Its features are similar to many other apps in terms of GPS tracking and community, but given each app has its own design, we think it's worth experimenting with a few to see which you prefer. Again, MyRide has exceptional reviews scoring an average of 4.6 on the app store. Features include tracking your ride with real time statistics such as lean angle, acceleration, speed and more. You can also create your own logbook, with pictures and personal notes. If you want to keep this private, you have your own personal account to store the information, or you can share it to social media and even export it to GPX format.
Eat Sleep Ride
Eat Sleep Ride is one of the more longstanding members of the app store and was developed by motorcycle enthusiasts. With fierce competition for GPS tracking apps, we thought this one still needed a mention particularly for its 'CRASHLIGHT' feature. Although a premium option (with a 30day free trial at the time of writing), this feature detects if you have a crash whilst riding and will share your location with loved ones. The rest of its features are free and include tracking, social and safety features. You can track an unlimited amount of rides, create private ride groups to share and discover favourite rides, view your speed and distance at every turn and for the competitive folk, you can climb the leader board by accumulating miles.
Motorcycle Theory Test UK
Admittedly, theory isn't necessarily the most exciting part of owning a bike, but it is vital you know your stuff for the safety of you and those around you when riding. An app like this can be great to brush up on your knowledge and you may even find you enjoy testing yourself! It's been built in collaboration with Camrider, one of the UK's top rider training companies and has a wealth of free features. They have a revision question data bank which includes 80 hazard perception test videos, with interactive scoring and full explanations. The highway code is included and the app has been designed intelligently to test you based on questions you may have previously answered incorrectly.
AUTOist
If you're serious about your bike, you'll be serious about looking after it to ensure it's safe to ride, prolong its lifespan and maintain its value. There are a number of apps that can assist you in the maintenance of your bike and AUTOist one of them. It gives you a convenient way of logging and recording maintenance such as gas/fuel economy, MOT and service reminders, inspections and more. You can even attach receipts to keep your records safe in an online portal. Quick access to when you last replaced tyres or oil can be incredibly useful when on the roads and we all know keeping a thorough record can help resale value, not to mention ensuring you look after your bike in the best possible way whilst you have it.
During maintenance checks, you may find parts of your bike need replacing either due to natural wear and tear or unfortunate damage. Here at Venhill, we are ready to help with all your bike parts and components needs. With over 50 years' experience of manufacturing cables and hoses in the UK, we pride ourselves on the quality of our products and are dedicated to ensuring they perform better, and for longer. Our goal is to combat common cable and hose problems leaving you with more time to enjoy your bike without any unnecessary worries. If you've found us and you're not UK based, don't worry, we also ship our products to customers all over the world. To find out more, start shopping online, or feel free to get in touch with a member of our friendly team.