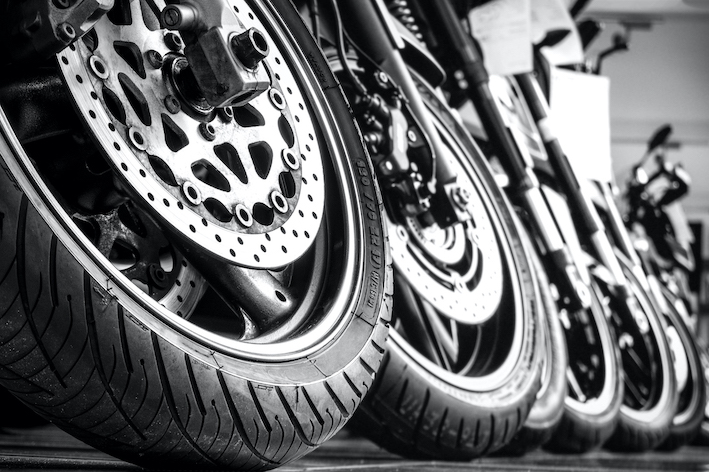 When choosing new tyres for your adventure motorcycle, there's so many choices, and so many questions that you'll need to ask; it's easy to just take the easiest option and call it a day. But sometimes the easy option isn't the best for your specific riding habits.
With adventure bikes becoming more and more popular, there's a bewildering range of tyres that could suit your purposes – do you go for tyres that perform better off-road, or do you try to strike a balance between on and off-road? At Venhill, we work with motorcyclists of all types, providing high-quality cables, fittings and other parts. We've put together this guide to help make choosing tyres for your adventure motorcycle a little easier.
How Much Difference do Tyres Make?
Your tyre's tread and construction make a huge difference in performance. If you're a relatively new rider, you might be gravitating towards the cool-looking knobbly tyres, but these might not be the best choice for your riding style, as you're compromising your tyre's comfort, life and handling for benefits that you might not see.
Having said that, a cool-looking tyre is pretty important too!
If we're completely honest, 99% of adventure bikes will never make their way off-road. Most riders will opt for a sport touring tyre which is specialised for road performance, or a hybrid tyre that can handle a little off-roading when it happens. If you're riding an off-road tyre for long distances on tarmac, you'll wear them down quickly; if you're riding a road tyre off-road, you're going to struggle for purchase on the loose terrain – a real dilemma.
Do I Need Knobbly Tyres on my Adventure Bike?
The answer to this question depends on how much off-roading you'll be doing. We all like to think that we're going to take our bikes on a real adventure through the country, but it simply doesn't happen as often as we'd like. Knobbly tyres are highly specialised for off-roading, so for most riders they're simply uneconomical and unnecessary. Finding a tyre that strikes a balance is usually the best option.
How to Choose the Ideal Adventure Motorcycle Tyres
When it comes to taking the leap and choosing some new tyres, there's a few specifics to consider.
Determine Your Motorcycle's Load
Adventure motorcycles are often loaded up with luggage, so can carry a fair bit of extra weight than other bikes of a similar size. It's important that you use a tyre that has the correct size and weight rating for your specific circumstances. Your best bet is to choose a tyre with a rating that can handle your bike's total weight (including you & your luggage) comfortably.
Choose Tyres Based on How You Ride
Now's the time where you have a good think about exactly how you use your bike. Consider the entire year – consider how often you go out, whether you travel long-distances and are you ever riding off-road?
Touring/Long Distance
If you're exclusively going to ride your adventure motorcycle on tarmac (perhaps commuting, or holidaying), you're going to want a solid touring option. Touring tyres are usually dual compound with a hard-wearing central belt. You'll enjoy improved handling in wet and dry, and a longer lifespan.
Best All-Round
If you're going to head out on an adventure and dabble in some green lane riding, you'll want something that can handle both, and handle them well. There's lots of tyres that claim to be excellent all-rounders; the Continental Trail Attack 3, for example.
Weekend Trail Rider
For the rider that enjoys frequent trail riding, you'll want a tyre that can deal with mud as well as it can deal with tarmac. Bear in mind that these tyres won't excel in either regard, but will perform admirably in the sticky stuff.
Getting Lost in the Wilderness
If you're planning on some heavy-duty off-roading, you'll want to bring out the big boys. These are your tyres with deep tread and plenty of knobbiness.
Sports Tyres
The complete opposite of the previous tyres, if you're planning on a track day, you'll want some really sticky rubber. For instance the Dunlop Sportsmart TTs is an excellent choice that warms up quickly and will get you round a track no trouble.
Accessories, Parts and Support with Venhill
It's very easy to see the difference that your tyres make – they're striking and obvious. When considering motorcycle maintenance, it's equally important to consider some of the less sexy parts of your bike – your cables, lines, controls and components.
Over the last 50 years, our team at Venhill have specialised in the most advanced motorcycle cables, controls, lines and other parts that money can buy. We believe that the connection between rider and machine is important, that's why we created our Part Finder and Line Builder tools to help you find the perfect components for your bike with ease.
To ensure that your adventure motorcycle performs at its absolute best, quality cabling should be at the top of your list. Our products are used by both beginner and professional riders worldwide. If you'd like some more advice on finding the ideal products for your motorcycle, be it an adventure bike an MX bike, or a road bike, give our experts a shout – we're on hand to help in any way that we can.