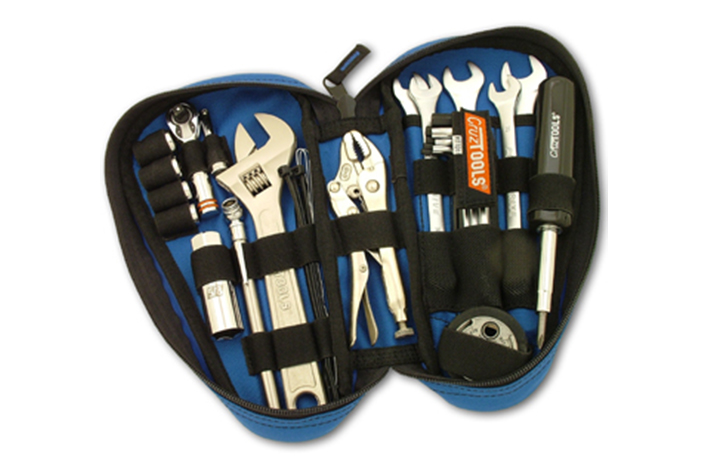 Maybe you're completely new to bike ownership and as such are more than happy to take your bike to your dealership or trusted mechanic for any work that needs doing. That's perfectly OK of course but in so doing, you're seriously missing out on one of the best bits of bike ownership, namely getting to know your bike, its working parts and components and learning how to tend to its needs.
Before you know it, this will become an additional hobby, part personal therapy, part safety ritual before you set off on any big excursion and part simply saving money. One thing is for sure: no one is going to care as much about your investment as you do, so it is right and proper that you become the person who knows how best to maintain and service it.
Whilst many bikes already come with a "standard toolkit" stored beneath the seat, invariably these are mass produced cheap pieces of kit which bend easily, don't grip properly and can cause damage to bolt, nut and screw heads.
With this in mind, we've put together the guide below to help you select the tools you need for that perfect kit.
Motorbike Toolkit List
You could invest a great deal of time and money compiling the best toolkit in the world but that would be pointless if you've no idea how to use its contents. Ascertain whether your bike has metric or imperial components then choose quality items accordingly: using metric where your bike has imperial fastenings might work short term but invariably will cause damage to heads and may lead to expensive repair bills later down the line. Practise with your kit before your first major excursion and take your bike to bits as far as is feasible. Then reassemble using the tools you have. Not only will that show you what you need and how to use it, it will also enable you to wean out any tools surplus to requirements: an added bonus with space on a bike coming at such a premium.
So, in no particular order, here we go with those essential tools to keep you on the road and lavish care on your most prized possession.
1. Spanners and sockets: sets can seem attractive but with space and weight of the essence, be selective and include only the sizes you need. Combination spanners are always the best investment: flat and open-ended at one end and with a ring at the other, they will always do the job. Double up with a cheaper version of the same so that you can hold a nut where necessary on the opposite side. Buy specific sized individual sockets to keep cost to a minimum and purchase a couple of extension bars to enable access to those difficult to reach spots.
2. Screwdrivers: choose robust quality screwdrivers with easy grip rubber handles and hardened tips to give better contact and prevent screw heads from becoming damaged. Ideally, screwdrivers should be as skinny as possible to gain good access to otherwise impenetrable areas. Screwdrivers with magnetic ends can also prove invaluable, particularly when trying to locate and remove any fastener that has dropped into a really tight space. Consider too purchasing a torque screwdriver, especially if you lack confidence in how tight the screw fitting should be. A torque screwdriver comes with precision settings so that fasteners are not tightened beyond a particular limit thus eliminating under- or over-tightening of fastenings and preventing the breaking off or wearing down of vital components.
3. Pliers: as with screwdrivers, rubber handles should be the preferred option as they are so much easier to hold, particularly with greasy hands. Pointed head pliers allow access to difficult to reach places and are useful to pick up any small component that has dropped into the machinery. Flat nosed pliers give an excellent grip and can be used in the absence of a second spanner to hold a nut in place whilst a screw is being tightened.
4. Allan Keys: bolts can so easily be damaged by cheap ill-fitting Allan keys so be sure to invest in a quality set including both short and long 90-degree handles. Consider too including a T-handle key as these can be easier to use, give more leverage and are better for removing stubborn bolts.
5. Tyre Pressure Gauge: undoubtedly this is one of the most important tools for your kit given how critical tyre pressure is for safety and performance whilst holding the road out on your bike. Choose one with a flexible hose and 360' rotation to make seeing the gauge easy and opt for one with an air bleed button for exact pressure setting. Check out our Tyre Pressure Gauge, voted Best in Class by RiDE Magazine!
6. Tyre Pump: go for a compact, accurate, lightweight compressor which is robust, compatible with your valve type and which will quickly get your tyres to optimal pressure for the terrain you are on.
7. Tyre Levers and Repair Kits: be careful here and be sure to invest in a set that are durable, made to last, won't bend when you are faced with a puncture in the middle of nowhere and which include a rim protector. Ensure too that you have on board the wherewithal to repair any puncture: patches and sealant at the very least are a necessity in that ultimate toolkit of yours.
8. Locking Wire (Safety Wire) & Twister Pliers:
Locking wire prevents fasteners like nuts and bolts from loosening - it's valuable to have to hand for locking, fixing and fastening items that may have been shaken loose by vibrations, and it's important to use proper twister pliers to avoid damaging the wire throughout fitting.
9. Miscellaneous: any seasoned biker will have a tin in his toolkit containing spares discovered to be indispensable over many years of biking. Bulbs, fuses, spark plugs, a length of wire, disposable gloves, cable ties, gorilla tape, duct tape, lock nuts, bolts, washers, spare chain links, lubricant and a working torch – none of these take up much space and one day you'll be glad you've thought to include them in your kit. If not for you, then to help out a fellow motorcyclist who has come unstuck along the way!
Of course, space is can be valuable on some bikes more than others, so prioritise what you carry by importance.
Learn More with Venhill
Whilst not exhaustive, we do hope this guide has given you some indicators as you begin to compile your ultimate toolkit. The key is not to skimp on cost, be discerning and choose quality items built to last. This is where we at Venhill with our 50 years of experience in the development and manufacture of cables and hoses and our huge motorcycle product range are here to help.
Whatever you're looking for, get in touch with us today and we'll be happy to help.